Adimec is introducing a new 50-megapixel camera the S-50A30 based on the CMOSIS CMV50000. The new camera provides more than just higher resolution. This CMOS camera, provides inspection accuracy increases, the highest inspection throughput at 50 Mpx, and the next step in image quality.
This is a three-part series that illustrates why to choose a 50 Mpx camera. We will compare to 25 Mpx cameras and high-resolution CCD cameras. In part one we discuss the inspection accuracy increases including a 20% square resolution increase along with a doubling in total resolution compared to a square 25 Mpx sensor (e.g. S-25A70/80), stellar image uniformity, and a sharp image over the entire Field of View (FOV).
In part two we discuss inspection throughput improvements at 50 Mpx including >4x higher inspection throughput compared to CCD image sensors; increased throughput with less movement steps via increased field of view; and how Adimec Connect & Grab(TM) ensures a fast and easy system integration with the stable high-speed CoaXPress interface.
Finally, in part three we discuss the CMV50000 as the next step in image quality, exemplified by improved sensitivity, being ideal for darkfield, brightfield and phase shift metrology applications as well as an example showing its readiness for display inspection applications.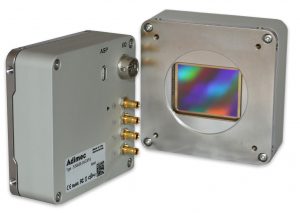 Inspection Accuracy
Resolution and Field of View (FOV)
Square resolution is increased by 20% over the current 25 Mpx offering and doubled for the full frame. This also increases field of view as shown below representing the FOV on a patterned wafer for 4, 5, 12, 25, and 50 Mpx cameras respectively.
Image Uniformity
Using Adimec's proprietary image uniformity enhancements like Low Frequency Flat Field Correction (LF-FFC) image defects such as lens shading and lighting non-uniformities can be compensated for. The before and after images below show the difference LF-FFC makes and the graph shows what is happening digitally.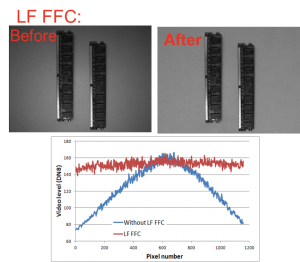 Sharp Image of entire Field of View
Adimec's precision sensor alignment in all 6 degrees of freedom provides a superior flat image over the entire field of view and minimizes if not eliminates camera to lens adjustment requirements. The precision alignment of the sensor relative to the mounting datum is critical to having an image that is sharp over the entire field of view.  Adimec's proprietary alignment stations ensure that each sensor is precisely aligned in all 6 degrees of freedom for tool matching and a true accurate image.
Extremely consistent alignment is achieved camera to camera for excellent copy exact performance and camera interchangeability.

Summary
Thus, you can see that the new CMV 50000 sensor delivers more than improved resolution. In parts two and three we will delve deeper into the other benefits of Inspection Throughput and Image Quality and the benefits of cameras based on this CMOS sensor versus high-resolution CCDs.