As manufacturers of display modules strive to improve product dependability, production yield, and throughput while also minimizing defects, there is a consistent need for increased display inspection accuracy.
New demands for inspection calibration requirements for display modules require simultaneous improvements to obtain:
Higher resolution (over previous 25MP cameras)
Accuracy in a range of temperatures
Detection of tighter contrast variations
High sensitivity for display measurements in dark conditions
High image quality despite dark signal non uniformities
Adimec introduces two revolutionary cameras that offer ideal features for display inspection applications, the D-65A30 and D-65A30-T.  Both the standard and "T" variant camera incorporate the GPixel GMAX3265 sensor. The D-65A30-T camera can deliver more stable temperature management in extreme environments. The controlled temperature sensor eliminates the effect of ambient temperature fluctuations on camera performance.
Camera Specifications and Functionalities
The GPixel GMAX3265 is a leading-edge sensor that incorporates a 9344 x 7000 array with a 37.4mm diagonal for high resolution in demanding high-speed display applications. This new generation sensor offers a low read noise and wide intrascene dynamic range in global shutter technology. The 65MP resolution allows for an inspection pixel to display pixel ratio of 9:1 for most current tablets, mobile phones, and other displays.  This means there is a 3×3 cluster of inspection pixels measuring the output of each display pixel.
The D-65 cameras are ready to take on both bright and dark field measurements with confidence.  For bright field, many images need to be captured in a short period of time and the throughput of the D-65A30 is matched for these types of scenarios. If the subject display is a µLED/OLED, the D-65A30 can assist with display pixel calibration for perfect display uniformity. High color fidelity is also maintained when inspecting various display types.
For measurements in dark, the D-65A30 can evaluate contrast levels even in very low lighting conditions.  Increased temperatures at low light levels can have detrimental effects on image uniformity, so to combat this, Adimec has developed the D-65A30-T with integrated thermo-electric cooling.  This feature helps the camera maintain image uniformity and reliability when working at high data rates in non-climate-controlled areas.
Easily upgrade from other Adimec inspection cameras:
Uses same form factor as S-25, S-50 and S-65 camera.
Uses existing CoaXPress CXP-6 architecture.
Has both exposure independent and standard DSNU correction.
The D-65A30 and D-65A30-T incorporate added features and functionalities that emphasize their focus on display inspection.  The D-65A30 camera supports multi-exposure, which eliminates banding and provides a uniform output image that is not over exposed. Dark signal non-uniformities can be accounted for using temperature and exposure time compensation.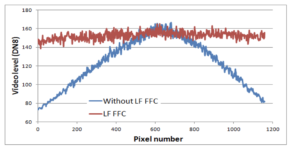 Specific features found only on the D-65A30-T:
4 x Micro BNC connectors
Use existing CoaXPress architecture or upgrade to CXP2.0 for higher bandwidth.
Has both exposure independent and standard DSNU correction.
Frame averaging
File storage for user data
TEC and Fan power and control
For more information on Adimec cameras for display inspection, please contact your local Adimec business office.