Industrial in camera image processing with Adimec True Accurate Imaging® technology: it's about the recipe, not just the ingredients for the best cameras
Adimec's success in the industrial camera market, particularly in high performance machine vision, military, traffic, and healthcare applications where image quality and consistency is essential, has been achieved through a proprietary technological innovation.  It's called True Accurate Imaging and it enables us to deliver superior performance, consistency, and value for the most advanced imaging needs.
Let me explain what we do.
When the information contained in an image is used for making critical process control decisions, during surgery, for license plate recognition or precise military operations, the quality and reliability of the acquired image is imperative.  Every recorded image is initially distorted by the imperfections of the CMOS or CCD sensors and image processing components in the camera. In addition, various external environmental conditions will affect the reliability of the information contained within the image.
Many applications are dependent on quality information in the image 
The challenge for high performance industrial camera manufacturers is to understand the impact of all these circumstances and compensate for them in order to restore the image to really reflect the scene. The best cameras can provide an exact representation of the object of interest without distortion, variation over time, and inconsistencies between cameras.
At its essence, True Accurate Imaging, unlike other camera manufacturers, combines otherwise standard electronic, optical and mechanical components via proprietary techniques to create exceptional cameras.  It is based on years of experience working with leading OEMs in machine vision, medical imaging, and outdoor imaging to define and refine optimized solutions for their needs; hundreds of OEM customers and system integrators have worked with us over the years to refine this technology.
Think of it as Adimec's version of Coca-Cola®'s top-secret formula that separates it from other, generic cola drinks.  True Accurate Imaging allows Adimec to reach new levels of performance and accuracy within each and every one of its cameras.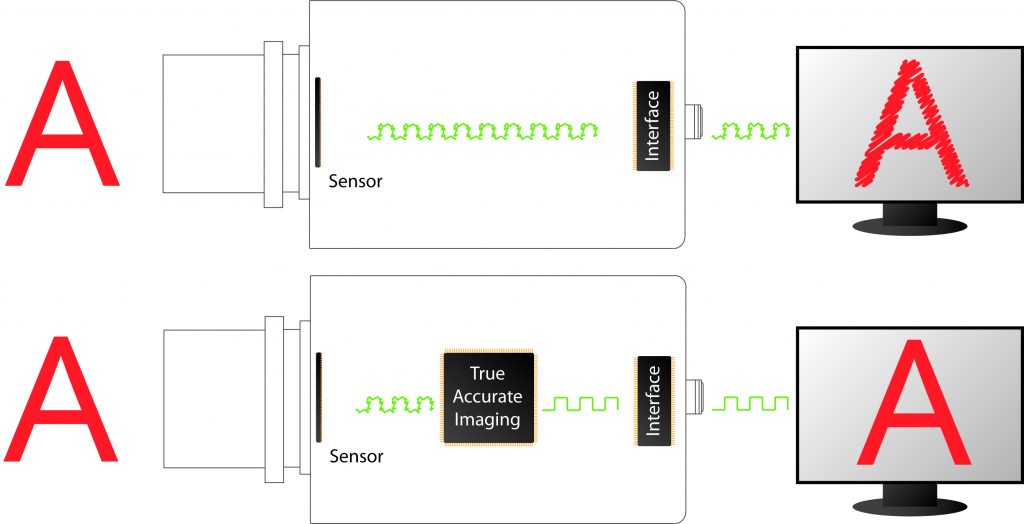 True Accurate Imaging delivers the right combination of benefits for each market we serve:
High and consistent image quality
High speed, high resolution performance
Repeatability and reliability of result from camera to camera
Efficient design and integration capabilities
Support for latest peripheral technology and connectivity
True Accurate Imaging is not just a technology innovation – it delivers real, tangible value to OEMs through lower risk and total cost of ownership.  First and foremost, Adimec's products are backed by an unwavering commitment to customer service and support. This means customers get direct access to experienced engineers who can solve unique challenges.  Our interaction with customers begins at the early product definition stage, and we work closely to tailor solutions that address their specific application requirements (our products are available as 'catalogue' versions if no adaptations are required as well).  Our in-depth technical expertise in imaging applications, accessible to customers worldwide, adds a level of value not typically delivered by other camera suppliers. This translates, for customers, into high return on investment and a sustainable supply over a long period of time.