Achieving Uniformity Inspection of OLED Displays
OLED (organic light-emitting diode) and Micro LED displays are modern display technologies we see in our mobile phones, televisions, and other portable computing systems. OLEDs offer a greater contrast ratio and deeper black level because OLEDs emit their own light. The absence of a backlight allows blacks to be displayed as true black because this color does not emit light or consume power. Also, OLED displays offer response times up to 1000x faster than LCD. Due to the low response time, these types of displays are capable of much faster refresh rates creating challenges for inspection of OLED displays.
Lastly, during the production of OLED displays, the yield can be increased by using better AOI equipment in combination with the inline tuning of the display-pixels. For these reasons, display inspection machines need to be more advanced than ever to spot irregularities and defects.
The latest camera in the Adimec Diamond series, the D-65, is capable of contrast measurement in very low light conditions which are required to measure dark displays for so-called dark Mura measurements. The total dark noise is approximately 2x better than the industry reference 29 Megapixel CCD image sensor, as shown below, resulting in 3x better sensitivity. Alternative CMOS sensors (like the AMS CMOSIS 71Megapixel rolling shutter) do have much higher dark current levels, which require active cooling to reach acceptable sensitivity levels for dark Mura measurements. Even at higher temperatures, the light density required for the D-65 camera is significantly less.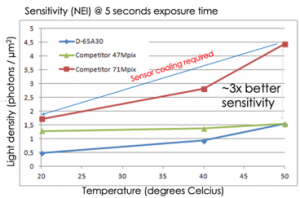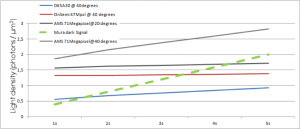 When inspecting various display modules, there is typically variation in light conditions from one module to the next. With the D-65 camera, the camera images will look perfectly uniform independent of the exposure time due to special uniformity corrections. Whether the exposure is 1.6 seconds or 3 seconds, consistency is maintained in the resulting image.

If you have ever watched a video stream of an electronic display, you may have noticed the stripes moving down the screen. When the camera exposure time is less than the display refresh period, these stripes or "bands" are produced. This condition, known as banding negatively affects an inspection because it makes the resulting image nonuniform. In order to overcome this problem, Adimec has developed a feature found only on the D-65 camera.  This feature, known as multi-exposure, takes multiple exposures of short integration times and combines them to create a band-free image.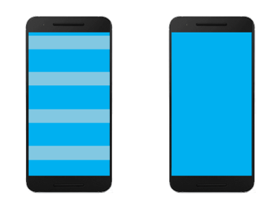 The D-65 addresses the inspection challenges for the latest displays. For more information on our display module inspection cameras contact your local business office or check out our Diamond products.