At the 2019 SPIE Defense and Commercial Sensing (DCS) Convention, Adimec demonstrated the rugged, extended day, 4K, TMX-55/CXP camera featuring our unique in-camera functionality called Video Enhancement Module (VEM).
Rugged Camera with High Image Quality Under Extreme Environmental Conditions
The TMX-55 CoaXPress camera is part of the TMX CMOS series designed with features optimized for global security applications: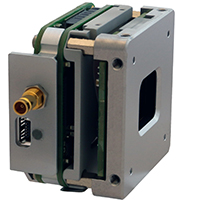 -Made for operation in harsh environmental conditions  verified by MIL-STD-810 requirements
-Low size, weight and power requirements
– Crisp images from dawn until dusk, with full high resolution for recognition from longer distances, and improving identification for better mission effectiveness
-On camera color processing meaning less overhead at the frame grabber as well as excellent color fidelity. A color matrix can be adjusted to account for system level "color" in the optics including filters giving true to life color reproduction for better visibility and accuracy.
High Visibility Regardless of Hazy Conditions
Adimec's live demonstration at the DCS showcased the Video Enhancement technology which makes details that are not clear to the human eye more visible. This is done through contrast enhancement and histogram stretching to pull out details despite difficult environmental challenges such as fog, mist, low light, and haze. VEM minimizes the effects of these conditions to improve the possibility of greater visibility. With the demonstration shown here hazy conditions were created by using a milk and water mixture, with a display of M&M's behind it. As shown in this video you can not only see the colors and shapes, but the white "M" detail of the candy display is still clear despite the foggy/cloudy conditions.
Improving the Safety Around Us
Adimec is proud to help combatants and civilians remain safe by providing the best video quality possible needed for making important decisions.