With the QUARTZ Q-12A180, we not only redesigned the camera platform to deliver the fastest frame rates from the latest generation high-resolution image sensors, but also took extra steps to simplify integration. In addition to using automated alignment tools in production for better alignment of the image sensor with respect to the front of the camera, there is a fitting hole on the camera front to enable accurate alignment of the lens mount to the camera front.
This improves the alignment of the lens mount with respect to the front of the camera and thus a better alignment of the lens with respect to the sensor array and provides alignment of the entire optical path.
Features in the Q-12A180 that further support simplifying integration include:
Various lens mount options
Compact connectivity with the coax cables with the DIN 1.0/2.3 connectors from the V1.1 CXP standard
The IO port for triggering allows for:
1.  Receiving triggers from sources other than the CXP frame grabber
2.  Providing strobe triggers directly to other parts of the system
3.  Trigger synchronization in multi-camera systems
4.  The port to be extended from 4 pins to 12 pins within the same connector package
USB service port to allow firmware upgrades of the camera, including in the field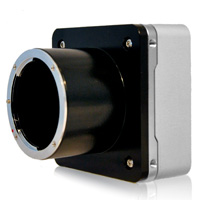 The Adimec Q-12A180 will be demonstrated at the Photonics West Show in the Adimec booth 4541 in a few weeks along with several other imaging innovations.  We hope to see you there.
Related Posts:
OEM camera considerations for tool matching and increased system up-time
Precise sensor mounting and alignment for sharp images in all conditions
High-resolution camera for machine vision: how to choose?
Adimec introduces highest image quality QUAD CoaXPress camera, the new QUARTZ Q-12A80/CXP