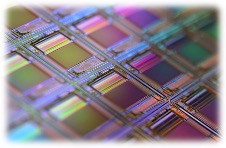 Semiconductors are essential components that are the foundation of electronic devices. Accurate inspections are performed after each process step to ensure product quality.  Maintaining high standards is essential to achieving variability and defectivity control. Thus, the manufacturers can meet necessary reliability and performance regulations, especially as the size of electronic and optical devices continues to shrink.
For semiconductor inspection and metrology in the past, production samples were pulled off for destructive measurements. This was to check that the process equipment was running as expected. And at some stages, there was a human doing manual inspections. Now that the dimensions of electronic devices are smaller, the process equipment must be more precise. Even small changes can cause defects in the semiconductor devices. These devices are also designed to be increasingly thinner, more powerful, and use higher density components. In the development of electronics, the size and shape of components have been made smaller and more precise. This is also true of the functions they perform.
The need for more sophisticated PCB's has led to an increase in the use of very small quantities of adhesive on high-density PCB's. Performing 100% inspections of such precision coating requires high accuracy, stability, and appropriate measurement speed. Therefore, high resolution, fast frame rates and non-destructive optical measurements are required. Many optical measurement methods rely on high-performance industrial cameras. Such cameras are characterized by low defect pixels and uniformity. Contaminant and particle detection is one area that is continuously becoming more prevalent in the industry. This is due to wafer manufacturing methods producing smaller and more densely stacked integrated circuits. These small particles, scratches, or ditches can be difficult to detect by human eye and can amplify errors in manufacturing processes. Advanced packaging relies on die placement and alignment verification at continuously increasing speeds and tighter tolerances with today's machines.
Another application is the connection of wires and components via soldering and other bonding methods. The integrity of these connections is crucial to maintaining the quality and reliability of the final product. Automated inspections with high-resolution cameras can detect faults prior to shipment. This reduces the likelihood of issues at the customer upon receipt and creates a product that is more dependable during its service life.
Capturing defects at each point of the process at a high throughput is critical in semiconductor manufacturing. This market requires maximum image performance and tool-matching performance at full resolution and frame speed while facing those ever-shrinking dimensions. Having the right image sensors that provide high resolution and frame rates is necessary. However, someone needs to perform calibrations and process the raw data from the sensor. This is where the camera manufacturer comes into play.
The latest ultra-high-resolution image sensors such as the Gpixel GSPRINT4521, GPixel Gmax 3265, and the AMS CMosis CMV 50k are just one crucial component to developing cameras capable to meet today's semiconductor inspection and metrology demands. They need to provide repeatable uniform images, high sensitivity, and fast frame rates. The pixels in these cameras are getting smaller and smaller which matches the reduced size of the semiconductor components they are inspecting. The camera must provide consistent performance in varied lighting and temperature environments to capture the highest-quality images.
Please contact your local Adimec business office for more information on Adimec cameras.