While smartphones are affecting available image sensor technology, there are also advances in machine vision to support the production of smartphones.
Changes in Society
A major trend in society is the need to be mobile yet constantly stay connected (http://www.peoriamagazines.com/ibi/2012/jan/year-of-mobility).  This has changed what we buy to support how we want to live.  For instance, there has been a dramatic increase in the adoption of smartphones: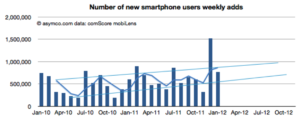 Source:  http://www.asymco.com/2012/03/07/the-unrelenting-trends-in-the-us-smartphone-market/
"The pattern shows a likely 1 million new smartphone users per week being added consistently by the fourth quarter of this year."
Deep Impact
The ripple effect is dramatic and has resulted in changes and advances in many markets, including machine vision.
While companies like Samsung and Apple are responding to and feeding the consumers' demands, the semiconductor market has grown by focusing on supporting them. (http://www.electroiq.com/semiconductors/2012/04/19/tablet-and-smartphone-sales-driving-global-semiconductor-market.html)
To increase the capabilities of smartphones, more powerful processors are required.  This means higher density chips, smaller components, and changes in packaging, among others.
This presents new challenges for manufacturers of inspection and metrology equipment.  With semiconductor front-end manufacturing, smaller features must be detected without compromises in throughput.  Higher resolution cameras combined with high speeds allow for improvements in accuracy.
With semiconductor back-end manufacturing, 3D inspection and measurement is becoming more important with such changes as the height of the solder paste becoming greater than the width.  Again, machine vision cameras taking advantage of the latest CMOS global shutter image sensors with high resolution combined and high speeds allow for a response to these challenges.
Also, constantly increasing densities on printed circuit boards and the drive for thinner, lighter, and more energy –efficient displays result in very short innovation cycles.  The latest generation machine vision cameras can continue to support the changing needs for inspection.
While better CMOS sensors are allowing us to take better photos with our smart phones, better CMOS sensors are also used in the industrial cameras that guarantee the quality of the parts within the phones.  High performance machine vision suppliers have been relied on to enable the advancements required.
We will explore all of this further in our series of blogs this month.
Other posts you may find interesting:
CCD vs. CMOS Image Sensors in Machine Vision Cameras
CCD vs. CMOS Image Sensors in Machine Vision Update
Can small pixel CMOS Image Sensors be Useful in Machine Vision?