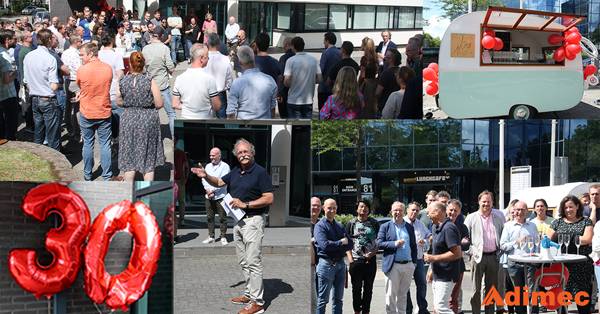 EINDHOVEN, the Netherlands – July 14th, 2022 —  Adimec, a leader in application-specific, leading-edge industrial camera solutions, celebrates its 30th Anniversary this July. From its founding in 1992, Adimec has become a world-renowned brand while enjoying 30 years of growth, including the leap from 15 initial employees to almost 200 today.
The company has also established a presence around the globe to better serve its worldwide network of customers, with business offices in Boston, Seoul, Shanghai, Shenzhen, Singapore, and Tokyo.
Coinciding with this anniversary is the retirement of Jochem Herrman, co-founder and chief scientist of Adimec. Of Jochem's 30 years with the company, co-founder Just Smit said, "His vision and his mastermind meant a lot for the development, the success and the market acceptance of CoaXPress, which resulted in the achievement of the 2009 Vision Award by a consortium of companies headed by Adimec. Without Jochem's contribution this interface would not have been where it is now, in this structured way with all the competitive advantages for Adimec."
The Director Of R&D at Grass Valley Cameras, Klaas Jan Damstra, said, "Jochem is interested in a broad range of technologies, always looking for customer and market solutions, never just trying to find a customer specific solution, but always with a broader view for a better applicability preferably working towards market standards" — a true reflection Adimec's own approach and values.
Adimec employees enjoyed a champagne toast, hearing from the company founders, and watching a video that included celebratory clips from each of its six international business offices.
We congratulate Jochem on his retirement and look forward to Adimec's next 30 years!
———————————————————————————————————————————
Founded in 1992, Adimec develops and manufactures high-performance cameras that meet the specialized requirements of key market segments, including machine vision, healthcare, and global security. It partners with major OEMs worldwide to create these industry-leading cameras, which meet a wide range of performance, size, cost, interface, and application requirements. Adimec True Accurate Imaging® provides new levels of precision and accuracy to vision systems, while the local, personalized support of its offices around the world focus on creating exceptional customer value and satisfaction.
For more information, go to www.adimec.com. To explore imaging and vision topics, check our blog.
Contact Information
Adimec Advanced Image Systems b.v.
Tel: +31-40-2353900
Fax: +31-40-2353905
www.adimec.com
Press Contact: E. Nugteren (enugteren@adimec.com)