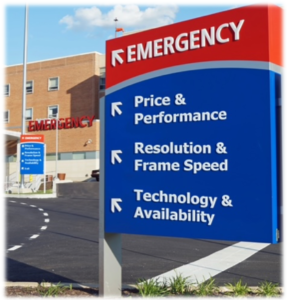 While there are many viable alternatives to Image Intensifier CCD RIUs (II-CCD RIUs), Indium Gallium Zinc Oxide (IGZO) flat panel detectors offer an interesting and promising option as a replacement. These panels could offer an ideal mix of performance versus cost, especially in larger panel options. With existing factories switching to IGZO panel production, the market is well positioned to support IGZO panel replacement and implementation on a larger scale than was previously possible. This paired with the balance of performance and cost, poises IGZO technology as a contender in the future of the Dynamic X-ray market.
Today, II-CCD RIU's are still used for dynamic imaging in mobile C-arms. These systems specifically target to deliver diagnostics imaging in cost-sensitive healthcare environments. The II-CCD RIU's have proven to deliver reliable and cost-effective detection, not necessarily with the best image quality, but with a good quality for that purpose. A flat panel detector offering the same capability to these systems will be an interesting candidate to replace the obsolete CCD-RIU's in mobile C-arms. Three essential take-aways to consider for the follow-up technology choice are: (1) detector resolution trends when moving from RIU to flat detector; (2) price performance considerations for mobile C-arm applications; (3) supply chain availability of the technology and products.
Detector resolution trends
When looking at image resolutions in the mobile C-arm market, a general trend becomes noticeable. RIU detectors typically facilitate 0.5k2 and 1k2 detection resolutions combined with 9" Image Intensifiers and 1k2 CCD resolutions combined with 12" II's. Flat detectors generally come with 1k2 to 1.5k2 alike resolutions for 9" and 1.5k2 to 2k2 resolutions on 12" panels.  Some image intensifier models support optical zoom, making high resolution imaging on small fields of view possible. Flat detectors do not support optical zoom.  High resolution on small fields of view can only be realized with high resolution detectors, which requires small pixels in combination with 30FPS dynamic acquisition.  This is possible with CMOS and IGZO panels, but is limited with aSi panels, certainly in case of 12".
Dynamic mobile C-arm price, performance considerations
IGZO panels are an interesting option to replace II-CCD RIUs not because it has the best overall performance, which is boasted by CMOS FXD (CMOS), but because of its ability to balance solid performance with an economical cost.  They have an IQ on par or surpassing II-CCD RIUs, which makes it a good fit to be used in the same market.  IGZO technology improves upon a few key areas in comparison, mainly increasing the detail visibility while also creating a distortion free image.  They can also run at frame speeds suitable for dynamic imaging in all formats.  However, IGZO does not come without any concerns.  Because of the behavior of the amorphous silicon photodiodes that are used in IGZO panels, there is potential for some lag effect to occur when using the panels in dynamic imaging.  Managing this requires attention to panel and electronics design and system integration level.  While smaller panels of 6" and 9" formats may already have their needs met by today's aSi and CMOS panels, there is a niche that IGZO will be able to fill for 12" and 17": high resolution (2+ Mpx) at full dynamic imaging speeds (30FPS+) for economical pricing.  This is something aSi is not capable of providing on performance and CMOS does not deliver on price.
As high-resolution flat detectors generally are more expensive than low resolution versions, it is important to consider the purpose of the mobile c-arm system and balance the need for resolution and cost while achieving speeds required for fluoroscopy applications. When panel size increases, IGZO panels offer a greater cost benefit. At a size of 9 inches the IGZO panels may be the point where that benefit becomes more apparent, but it becomes especially evident in panel sizes of 12" and 17". This is the point where the resolution, speed and size offered by IGZO panels combined with the economic cost could position it nicely as a replacement for the II-CCD RIU's.
IGZO supply chain availability
Supply chain for IGZO detectors was a concern in the last 2 years, as pointed out in the Yole report.  This concern is being resolved in the coming years since IGZO panel manufacturers and detector developers have begun to mature the IGZO based supply chain, according to InnoCare.   "InnoCare produces aSi and IGZO based TSR's" says Tim Yang, Managing Director of InnoCare Optoelectronic Europe BV.  "We see an increasing interest for IGZO X-Ray panels at both our customers as well as system manufacturers.  The advantages in sensitivity, resolution and above all speed over amorph silicon panels will benefit various existing and new applications such as Digital Tomosynthesis in digital radiography and dynamic mobile C-arm systems in fluoroscopy.  We started with IGZO a few years back and are now extending our portfolio."  Along with InnoCare, other panel manufacturers are introducing IGZO driven by the adoption in the display manufacturing industry.
Transition guideline map
Obviously, one may face various options to consider when planning a transition from II-CCD RIU to flat panel detectors. To support clarifying the playing field, we constructed a transition guideline map listing transitions from 9"and 12" II-CCD-RIU to flat detector that are expected to be the most logical ones in terms of imaging resolution: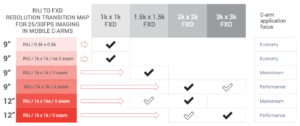 Transitioning towards 1.5k2 on 9" and 2k2 on 12" facilitates detailed imaging
on small fields of view as we see possible in the 1k2 CCD-RIUs.
IGZO panel technology is a promising alternative to replace II-CCD-RIU's in the X-ray market, especially in medical imaging equipment such as mobile C-arms, and to become an interesting option to the future of dynamic imaging.  In years to come, further innovations to IGZO will only increase its viability as a replacement and improve on its current standing. These innovations will allow for smaller pixels to become a possibility.  With these smaller pixels, even higher resolutions can be combined with dynamic imaging speeds to support further advances and innovations in medical X-ray imaging that will be beneficial for applications in digital tomosynthesis (DTS), CBCT, and 3D and spectral X-ray imaging. In one of our next blogs, we will continue to explore system design challenges of transitioning from II-CCD-RIU to FXD in mobile C-arm.