In the world of cameras, the favored image sensor type is now evolving.  Two of the most popular visible sensor technologies found in the industry are CMOS (complementary metal-oxide-semiconductor) and CCD (charge-coupled device). In the past, CCD offered a higher image quality with better light sensitivity and reduced noise.  CMOS was known for its high-speed capability, lower cost of manufacturing, and reduced power consumption.  Determining the correct image sensor was not as simple as selecting the best sensor available but rather, customers chose a sensor optimized for their specific application.  In the imaging world today, CMOS sensor technology has improved significantly and is steadily becoming superior to CCD.
Recently, ON Semiconductor announced the upcoming product discontinuation of their CCD image sensors and will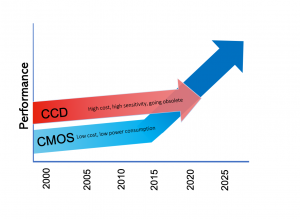 subsequently close their plant in Rochester USA.
According to ON Semiconductor, the sales of their CCD image sensors have declined to an unsustainable level due to the ongoing market conversion from CCD towards CMOS image sensors. The discontinuation affects all CCD image sensors from ON Semiconductor.
For more details see the official announcement from ON Semiconductor.
In light of this ongoing market transition we will be publishing a blog series where the following topics will be discussed in the coming weeks:
Changing from 29/47 Mpx CCD to high-resolution CMOS for Display Module Inspection with the D-65A35 using the Gpixel GMAX3265 sensor
Keeping CCD pixel format with Adimec's adaptive resolution
Moving from CCD cameras towards CMOS alternatives
Adimec's CMOS camera alternatives for CCD metrology cameras
If you are considering moving to CMOS contact your local Adimec representative for support.