Because it was the 25th Vision Show, and Adimec is celebrating our 20 year anniversary, we decided to look back on where machine vision has come from and where we are headed.
 Though Machine Vision has its roots in military image analysis and artificial intelligence – research that started after WWII, we start our journey in the early 1980s when industrial machine vision really took off.  At that moment the market pull from companies that needed new tools for quality control during mass production as visual inspection by humans was no longer practical, met a technology push from industrial (VME) and commercial computing (IBM pc) platforms, image processing software and CCD cameras.
It is therefore logical that early adopters of Machine Vision technology were often large companies that developed solutions for their own use, often with help of universities and/or small companies specialized in imaging.
To illustrate this: it was in 1984 when Adimec's predecessor HTH started working for Philips on the automatic measurement and alignment of color CRTs – a perfect task for machine vision although not easy at all!
One of the challenges was to have cameras that were able to very accurately measure with a high speed.
Their knowledge was not specialized in machine vision though.  For an effective machine vision systems, you need an understanding of illumination, optics, sensors, cameras, software programming.  As there were better components that became available, particularly the CCD camera from Sony, some companies saw an opportunity.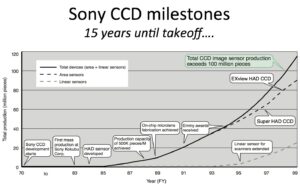 CCD technology started for professional markets like broadcast & security.  The real volume came with commercial applications like camcorders (i.e. Sony Handycam).  Adimec (previously HTH) was one company that recognized cameras for industrial use were a smaller market with special requirements opening a new market.
By 1988 when the first Vision Show was held which initiated the machine vision market.  The important application themes at VISION originated from the large industries in Germany like:
– on-line inspection of car parts
– optical quality control of plastic parts
– optical detection of imperfections in glass
Over the last 25 years, the market has matured as evident by world-wide players, cooperation between companies / associations to align standards and develop joint view on the future.
It is safe to say that Machine Vision is a key enabler for many high tech markets today. For example, the production of semiconductors and mobile devices like mobile phones and laptop computers would not be possible without the use of Machine Vision technologies.
For many years the growth, the focus for sensors and cameras was on higher resolution and greater frame rates.  For the majority of applications 1 or 2 Megapixels at 50 fps is adequate.  Now there is a lot of focus on reducing costs and easing integration.
Machine vision has finished high school and has a bright future ahead.  Evidence for this are a consolidation of companies in the market, price fights among camera suppliers, and most importantly the industry is no longer defined as a solution looking for a problem.  There are now many automation problems looking for machine vision solutions, such as:
Innovation in semiconductor manufacturing moving to sub 20 nm nodes and 450 mm wafers
Innovations in chip packaging and PCB manufacturing with 3D ICs, chip on PCB, and flexible PCBs
Higher resolution and flexible smaller displays
Higher quality, on-demand car manufacturing.
Vision guided robotics for factory automation.
Securing public spaces and our borders.
There are questions from many different industries being asked to the MV industry. Have we graduated successfully to give a professional answer?
Jochem Herrmann, our Chief Scientist, presented on this topic as well as the future of machine vision at the Vision Show 2012.  Stay tuned for a video of the entire presentation.