Today we introduce the highest image quality QUAD CoaXPress camera – the new QUARTZ Q-12A180/CXP combining 12 MPx imaging and 187 fps performance with benefits of CoaXPress interface.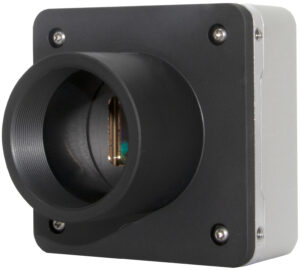 This addition to the family of CMOS global shutter cameras offers highest speed, high resolution with reliable and highest image quality to measure ever smaller critical structures or defects with the increased accuracy and throughput required by in-line optical metrology systems.
The Q-12A180 camera utilizes the CMOSIS CMV12000 global shutter image sensor and is a 12 Megapixel CMOS global shutter camera that delivers images of 4096 x 3072 pixels at a maximum 187 full frames per second (fps). It is equipped with the CoaXPress V1.1 Quad interface (4 x CXP-6) utilizing Adimec's new 2 Gigapixels/s platform. The new camera architecture was designed specifically for high data rate imaging with the lowest power, fan-less Quad CoaXPress implementation in a compact form factor.  Lower speed Camera Link versions are also available.
The sensitivity and high shutter performance of the CMV12000 image sensor in the Q-12A180 enables excellent performance in light-starved and timing critical applications that are common in electronics inspection and semiconductor metrology. Sensor alignment and retention is well suited for industrial optics with large numerical apertures where focus and sensitivity over the complete image is critical.
CoaXPress CXP-6 Quad (4 x CXP-6) offers a peak transfer rate of 2 GByte/s with data transmission between the camera and frame grabber at up to 25 Gbits/s (4 x 6.25 Gbits/s). The maximum of 9W of power to the camera is also enabled over the one CoaXPress interface cable. This is all with a cable length of up to 68 meters.
This camera will be demonstrated in the Adimec Booth #1G68 at the Vision 2014 in Stuttgart, Germany November 4th to 6th.