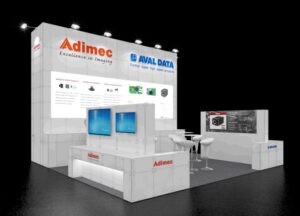 Precise, Reliable and Repeatable High-Resolution Cameras for Demanding Machine Vision Applications
EINDHOVEN, the Netherlands – April 6-8, 2022 –   Adimec (www.adimec.com), a world leader in application-specific, leading-edge industrial camera solutions, will showcase its portfolio of machine vision products and technology optimized for automated inspection systems at the 2022 World of Automation Show in Seoul, Korea, April 6th to 8th in booth B704 (Hall B) at COEX Seoul.
We will showcase:
The reliable SAPPHIRE series delivering high resolution cameras with best-in-class uniformity and dependable performance. Featuring the new SAPPHIRE S-49A35, using the Gpixel Gmax 3249 image sensor, CoaXPress camera that brings the maximum resolution of 7k x 7k global shutter technology with the best performance available for in-line inspection.
The SAPPHIRE S-65A70 high resolution CoaXPress camera with the Gpixel GMAX3265 sensor and a maximum resolution of 9344 x 7k global shutter technology with 70 frames per second, and the SAPPHIRE S-65A35 CoaXPress camera also at 9344 x 7k with 35 fps.
The new versatile QUARTZ Q-21A230 CoaXPress camera with a Gpixel GSPRINT 4521 sensor that delivers 5120 by 4096 pixels and 230 frames per second to the image for real-time metrology tasks with a reliable high-speed CoaXPress data interface.
Come and visit us at booth B704 (Hall B) at COEX Seoul shared with Avaldata to see these innovative products and demonstrations.
Adimec specializes in the development and manufacturing of high-performance cameras that meet the application-specific requirements of key market segments, including machine vision, healthcare, and global security.  Founded in 1992, the company partners with major OEMs around the world to facilitate the creation of industry-leading cameras.  Its products meet a wide range of performance, size, cost, interface and application requirements and its Adimec True Accurate Imaging® technology provides new levels of precision and accuracy to vision systems.  Adimec has offices around the world focused on creating customer value and satisfaction through local, personalized support.
For more information, go to www.adimec.com. For more information on imaging and vision topics, check our blog.
Contact Information
Adimec Advanced Image Systems b.v.
Tel: +31-40-2353900
Fax: +31-40-2353905
www.adimec.com
Press Contact: E. Nugteren (enugteren@adimec.com)