N-5A100 NORITE Global shutter CMOS,
5 Megapixel CoaXPress camera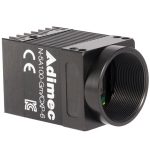 The NORITE N-5A100 camera is a OnSemi Python based 5 megapixel camera running up to 105 fps over a single Coaxial cable. The guaranteed throughput of 525 Mega pixels
per second makes this camera ideal for system requiring multiple cameras at high frame speeds.
Multi-camera systems using N-5A100 cameras eliminate the constraints with other Machine Vision interfaces, such as Camera Link-, USB3 Vision and GigE. The NORITE N-5A100 cameras are designed
to work together to simplify easy integration on system level and control the entire camera system through one user interface.
Features
Sensor: OnSemi PYTHON5k
Sensor type: True Global shutter CMOS
Optical size: 1" format (Ø 15.8 mm)
Pixel size: 4.8 μm x 4.8 μm
Resolution: 2592(H) x 2048(V)
Max frame rate: 5 Megapixel at 105 fps
Dynamic range: 60 dB
Full Well*: 10Kel Full Well
Power usage: < 4 W
Spectrum: Monochrome
Interface: CoaXPress V1.1.1 Single CXP3, 5 or 6 speed
Size HxWxD: 29 x 29 x 45 mm
Advantages
Reduces system complexity for multiple camera vision systems
Defect Pixel Correction
Region Of Interest
Bond functionality
DSNU and PRNU calibrated corrections
Programmable Look Up Table
Digital Fine Gain
Multiple Trigger Modes
Horizontal and vertical mirror
Up to 4 x 4 binning
Frame Counter
Crosshair Overlay
Test images
LED status indicator
Drawing