AMS CMOSIS 50 Megapixel QUAD CoaXPress camera for Electronic Productions like component inspection, FPD inspection systems and more
EINDHOVEN, The Netherlands, November 29, 2017 –  Adimec (www.adimec.com), a world leader in application-specific, leading-edge industrial camera solutions, will demonstrate several new CoaXPress cameras including a 50 Megapixel Quad CXP camera, the Sapphire S-50A30, at the International Technical Exhibition (ITE) at Pacifico Yokohama in Yokohama City, Japan from the 6th to the 8th of December.
The S-50A30 is a reliable high resolution, high speed solution for semiconductor metrology, flat panel display inspection systems or solar inspection tools.
For developers of multi-camera systems, such as side-view cameras for 3D metrology, the 5 Megapixel single CXP N-5A100 camera offers reduced system complexity through its simplicity while increasing throughput.
Sapphire S-50A30 50 Megapixel Quad CXP6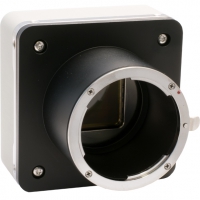 The S-50A30/CXP is the newest addition to Adimec's SAPPHIRE series of global shutter CMOS metrology cameras. All of the SAPPHIRE cameras provide the most reliable, low power implementation for ultra high-resolution, high-speed cameras.
SAPPHIRE S-50A30/CXP:
50 Megapixels (7920 x 6004) at 30 full-frames per second
AMS CMOSIS CMV50000 CMOS global shutter image sensor
Low noise and high sensitivity performance with excellent uniformity
Adimec connect-and-grab ™ up to 4 x CXP6, system set up within 24 hours
Lowest power, fan-less implementation in a compact form factor
Excellent price/performance ratio
Adimec's CMOS cameras offer the highest speed, high resolution with reliable and highest image quality to measure ever smaller critical structures or defects with the increased accuracy and throughput required by in-line optical metrology systems.
Adimec continues to add high-resolution camera options to improve accuracy and throughput of next generation healthcare and machine vision systems.