Advantages
Cable lengths up to 130 m (40 m for full data rate)
From 1.125 Gbit/s 6.25 Gbits/s over one coaxial cable
A single cable solution for data uplink, down link, and power (24V & 13W/cable)
Multi-coax core scalability
Point-to-point link with low fixed latency

What is CoaXPress
CoaXPress is a digital interface standard that allows the transmission of high speed data from a device, for example a camera, to a host such as a frame grabber in a PC, at a high speed of up to 6.25Gbps over a single coax cable. The device need not be a single camera – it could, for example, be an interface device that concatenates data from several cameras – since CoaXPress has the ability to carry many channels of image data and meta-data. For communication from host to device, there is a 20Mbps "uplink" that allows for control and configuration data. For even higher speeds, links may be combined to provide multiples of the single coax bandwidth. Finally there is also power provided over the cable at 24V, up to 13W per cable. More information about CoaXPress can be found on http://www.coaxpress.com/
Why CoaXPress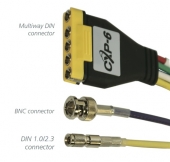 The relentless trend for higher speeds in demanding machine vision application results in the need for even faster cameras – thus initiating a new generations of sensors. These new CMOS sensors deliver large resolution images at impressively high speeds, producing a huge increase in data rates. This amount of data goes far beyond the capabilities of established interfaces, such as Camera Link, GigE Vision, and USB3. The CoaXPress standards supports these growing bandwidth requirements for the next decade, AND also satisfies the additional requirements for longer cable length, greater cable reliability and flexibility, real-time behavior, and cost efficiency.  Due to the use of standard coaxial cable and the bandwidth, CoaXPress is not only interesting for machine vision applications but also highly suitable for applications in the medical and defense & security markets where use of coaxial cable is prevalent. By using the same coaxial cables, CoaXPress enables smooth upgrades from analog to digital video within existing infrastructures.
Standardization status of CoaXPress
CoaXPress has quickly emerged as the top contender to be the interface standard of choice for high-performance, high-speed, long distance image system applications. A major reason for its fast adoption by the market is because it is ready in time to meet the latest developments in camera technology in an elegant way.The Japan Industrial Imaging Association (JIIA) is the host of the CoaXPress high speed digital interface standard for imaging applications, and the Automated Imaging Association (AIA) and the European Machine Vision Association (EMVA), gave their support for CoaXPress to become a world standard under the G3 Agreement.
Several compliance tests and plug fests have been held and many certified products are now on the market.  Version 1.1 of the standard was released in April 2013, which included the introduction of new DIN connectors.
The Q-12A180/CXP is the first CoaXPress 1.1 camera available (certified fully compliant in 2014 and also version 1.0 compatible). This camera outputs 12 Megapixel images at 187 fps. CoaXPress CXP-6 Quad (4 x CXP-6) offers a peak transfer rate of 2 Gigapixels/s with data transmission between the camera and frame grabber at up to 25 Gbits/s (4 x 6.25 Gbits/s). The maximum of 9W of power to the camera is also enabled over the one CoaXPress interface cable. This is all with a cable length of up to 68 meters.
For a list of CoaXPress frame grabber manufacturers, click here.