SAPPHIRE series: Large area scan CMOS global shutter cameras
The S-25A30 is a 25 megapixel CMOS global shutter camera applying the VITA 25k image sensor. It delivers high-resolution images of 5120 x 5120 pixels at 32 fps over Camera Link. The design of the S-25A30 differs fundamentally from that of other high-resolution machine vision cameras. It combines the unique Adimec design with the benefits of the VITA 25K image sensor technology for a very reliable camera that delivers high resolution images with best-in-class uniformity and stable performance.
The S-25A30 is optimized for in-line metrology and electronics inspection equipment that require high resolution to increase throughput or accuracy or both. But it can be customized to meet specific system application and architecture requirements.
Images with minimal blemishes

The Sapphire series eliminates typical large area scan artifacts present in VITA 25K via Active Sensor Control, a practical and easy to use embedded semi-automatic calibration function. It calibrates the camera without involving up-loading images to a PC. With Active Sensor Control the 25 megapixel technology can optimally be used for accurate inspection and metrology applications. Click here to read more about Active Sensor Control.
High uniformity by flat field correction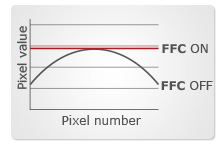 The embedded global flat field correction (real-time FFC per pixel) allows to derive a high uniform image regardless of non-uniform lighting exposure and distortions in the optical path towards the sensor. This embedded functionality offers performance enhancement while off-loading processing needs from the frame grabber and simplifies development efforts at system integration.
Regions of interest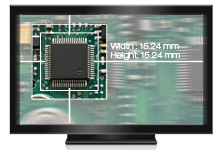 Using the region of interest in this camera does not only increase the frame rate but offers new possibilities to capture images. The combination of large sensor width (up to 5k per line) and the ROI functionality of the image sensor creates new area scan camera applications you never thought of before. Contact us to discuss these new possibilities.

No PC required
Both Active Sensor Control and Flat Field Corrections are easy to use through the calibration algorithms that are embedded in the camera and can be easily applied in the field. Storage of the FFC calibration map in the camera supports re-use of the FFC set(s) over time with immediate availability after camera power-on.