COMING SOON
D-103A12x/CXP-T01
High resolution metrology camera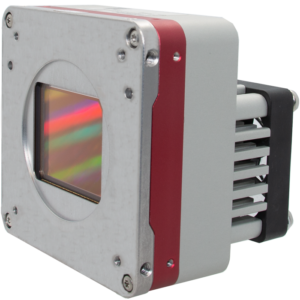 Specifications
Features
D-103A12-T01
Sensor
GPIXEL GMAX32103
Sensor type
CMOS progressive scan Global Shutter
Optical format
46.5 mm
Pixel size
3.2 μm x 3.2 μm
Resolution
11264 (H) x 9200 (V)
Frame rate
12 fps
Dynamic range
>66.4 dB
Full Well
9.0 ke-
Power usage
< 13 W for camera
< 13 W for TEC and fan
Spectrum
 Mono / Color
Interface
CoaXPress – CXP 3/6/10/12 –
2, 4 lanes configurable
Output resolution
8 / 10 / 12 Bit
The DIAMOND D-103A12-T CoaXPress camera is designed for challenging environments where the ambient temperature fluctuates. It is optimized for LCD, OLED and MicroLED inspections.
For De-Mura and display pixel calibration where multiple, very uniform, images are required, the D-103A12-T offers 103 megapixel (11264 by 9200) with a linear response and a dynamic range of more than 66 dB. For Mura dark inspection the camera has superb sensitivity in combination with low noise performance at long exposure times. The global shutter in combination with long exposure DSNU correction allows dark and bright inspection of LED based displays without the need for complex mechanical and software system integrations to take care of the large difference in light conditions.
The CXP12 interface and 4 CoaXPress connections allow a throughput of 12 frames per second even when the long exposure time correction is enabled. The controlled sensor temperature eliminates the effect of ambient temperature fluctuations on the camera performance.
Next generation interface:CoaXPress
CoaXPress enables higher speed over longer cable lengths. Read more.

Reliable performance
100 % tested 100 % reliable. Every camera is tested to deliver reliable performance.