Technical specifications Q-2HFW
The Quartz 2Mpx CoaXPress camera brings a 1440×1440 resolution at up to 550 fps based on 12 micron pixels. The design of the pixels in this global shutter CMOS sensor is optimized for maximum full well performance. An industry unique FWC of over 2-million electrons per pixel results in extremely low shot noise performance of 63 dB SNR. This enables the detection of very weak contrast variations in bright environments.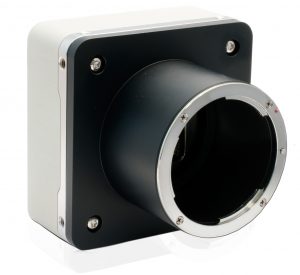 Adimec offers the 2Mpx CXP camera in a low power, compact outline design, not requiring forced cooling through a fan. This provides optimal design freedom for integrating optics and placement in inspection tools and microscopes. Similar to
our Q-12A180, the high full well Quartz 2Mpx camera is based on Adimec's new second generation CoaXPress V1.1.1 compliant 25Gb/s CoaXPress Quad interface. This interface is also fully backward compatible to existing V1.0 frame grabbers.
Sensor
2 Mpx CMOS Global Shutter
Optical size: APS-C
Pixel size: 12 μm x 12 μm
1440 x 1440 Resolution
Interface choices
Max sustained frame rate
Dynamic range
max 65,5 dB (realized at unity gain)
Signal to noise
Up to 63 dB (at minimum gain)
Image acquisition
Output resolution
8 – 12 Bit (max 11 Bit A/D)
Monochrome / Color choices
Triggering
Power input
24 Vdc PoCXP
<7W dissipation
Dimensions
Weight
< 400 g excluding lens mount
Optical interface choices
F-mount (Optional: TFL-II, M42, T2, EF or no-mount)
Operating temperature
-10°C to +30°C or max housing temp 50°C
Compliance
Functions & features
Region of interest
Analog sensor gain
Programmable offset ADC
Digital fine gain
Horizontal mirroring
Availability
Evaluation  units are available on request
Product is built to order only
Please contact us about your possibilities.