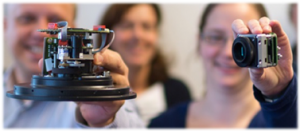 Definiteness of purpose is the starting point of all achievement – W. Clement Stone
Adimec's purpose statement: We capture excellence in imaging driving new technologies forward for a better quality of life.  How do you know that is not just another fluffy mission statement? Why should you care?
You have a sea of choices as you make decisions on who to work with for your unique camera imaging needs. At Adimec we collaborate and develop long-term relationships with our customers and offer customizations to optimally support their imaging needs. Ideally, we also want them to connect with the driving purpose of why we do the work that we do and what we believe in.
When you think of brands you repeatedly purchase from, do you consider why you choose the ones you do? Consumers often choose specific brands because they connect with the company's underlying values. Last week I bought my sons t-shirts at a "Life is Good" store.  They were more expensive than the average kid's t-shirts, but I made this purchase because I connected with the message. Life is Good's mission statement is "To Spread the Power of Optimism." You can actually feel that value as you walk into the store and see those positive messages displayed on each product.
Making that kind of value connection helps companies boost profitability and build a solid base of loyal repeat business. It may seem to be a given that B2C companies such as Life is Good need to create clear, tangible mission statements. However, it is also just as crucial for B2B players such as Adimec to clearly establish its mission/purpose so we feel connected to the higher goals of why we design and create our products.  If we didn't feel a connection to a larger purpose, do you think you would in working with us?
Not only does Adimec design and develop performance-enhancing camera imaging products, but we service three important markets: Machine Vision, Healthcare and Global Security. We optimize image sensors to help our customers capture the best image quality driving their technologies forward to create leading-edge systems. Our customers use our cameras to perform tasks such as inspect the components and displays of the electronic devices we rely on every day, improve medical imaging allowing for faster diagnostics, and provide increased safety measures for situational awareness in global security environments.
Creating a solid purpose communicates our ultimate goal and helps us not to lose sight of why our imaging experts develop cameras and lens assemblies. Why we all do what we do. We use our purpose to connect to this very human and optimistic ideal of our work having a larger impact and making for a better quality of life.
What is your purpose statement or your company's purpose statement?  Is it meaningful to you?  It would be great if we could connect not only on a technology or business-level but on these higher values in life.
Here is a longer-form version of our purpose with a more detailed explanation of what we do… Adimec develops and produces cameras and lens assemblies that deliver true accurate images – the exact information in the scene – for precise decision making in time-critical processes. By offering modifications and customizations, Adimec cameras excel beyond general purpose products to resolve specialized and unique imaging challenges.
For more information on Adimec cameras, please contact your local Adimec business office.