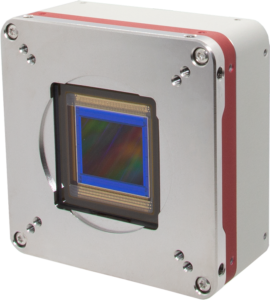 Q-21A230x/CXP-PA
High Speed Metrology Camera
The QUARTZ Q-21A230x/CXP-PA camera, or in short the Q-21 Performance, delivers the best image quality at 228.8 fps combined with optimal heat management, which makes it the perfect fit for Semiconductor Metrology applications.
5120 x 4096 pixels at 228.8 fps
Dynamic range > 68.7 dB
No active cooling required
Optimized for tool matching
Different operating modes for specific application requirements
Adimec Connect & Grab™ – easy system integration
Sensor
GPIXEL GSPRINT4521
Optical format: 29.5 mm
Resolution: 5120 (H) x 4096 (V)
Pixel size: 4.5 x 4.5 μm
Sensor bit depth: 12 bit
Global shutter CMOS
Monochrome / Color choices
Monochrome
Color
Removable cover glass (monochrome)
Interface
CoaXPress – CXP 3/6/10/12
2 and 4 lanes configurable
Performance
Dynamic range: > 68.7 dB
Full well: 33.6 ke-
Operating modes
Maximum full well
High full well
Maximum dynamic range
High sensitivity
Functionality highlights
Defect pixel correction
Factory calibrated uniformity correction
Low Frequency Flat Field Correction
Sensitivity matching
User data storage
Dimensions

Weight
Camera excl. lensmount: 600 g
Heatsink: < 75 g
Heatsink and fan: < 100 g
Power
Input voltage: 2 x 24 Vdc PoCXP
Power dissipation: typ. 16 W
Operating temperature
Sensor temperature: +5°C  to +60°C, or
Maximum housing temperature: 50°C 
Testing
Every camera is 100% tested on all specifications
Accessories
Standard
Optional
Heatsink
Heatsink and fan
Fn-mount
M42-mount fixed
Other lensmounts available on request
*Check if the 1X-2YE tap geometry is supported by the frame grabber manufacturer.