EXPECTED : THE Q-21A230 CXP CAMERA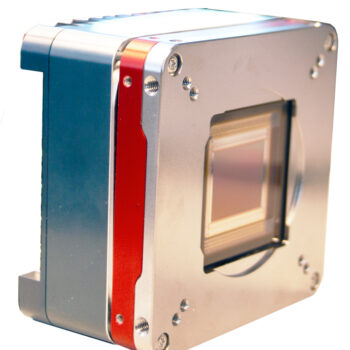 Sensor
GPIXEL GSPRINT4521
Pixel size: 4.5 μm x 4.5 μm
CMOS progressive scan Global Shutter
Interface
CoaxPress V1.1.1 CXP3/6/10/12 – 2 and 4 lanes configurable
Max sustained frame rate
Dynamic range
Power usage
< 15 W @ 24 Vdc full continuous operation at maximal framespeed
Image acquisition
Output resolution
Monochrome / Color choices
Triggering
Power
input voltage : 2 x 24 Vdc nominal, range: 18.5 Vdc to 26 Vdc PoCXP
Dimensions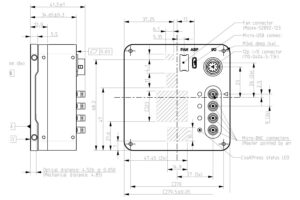 Weight
(including standard lens mount; lens mount 160g)
Total: 600 g

Optical interface choices

Standard

4 x M3 at 60mm pitch – 4 x M3 at 54mm pitch – 50mm G7 reference

Optional
Sensor temperature
Reliability
MTBF > 75,000h @ 30°C calculated according to the part stress analysis of MIL-HDBK-217F for ground fixed, uncontrolled environment.
Compliance
Testing
Every camera is 100 % tested on all specifications
Functions & features
Defect Pixel Correction
Region of Interest
Programmable I/O
Image Flip
Frame Counter
Video LUT
Analog Sensor Gain
Digital Fine Gain
Automatic Black Level Control
Dark and bright uniformity corrections
Pixel based DSNU or dark correction
Up to 50 Low Frequency Flat Field correction sets to correct for different illumination conditions.
Non-Volatile Calibration Data Storage
Customization
All QUARTZ models are customizable to fit a specific system outline and/or functionality requirements.
Please contact us about your possibilities.